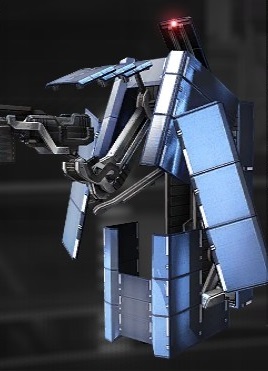 A general purpose robot manufactured by Amada Corporation for permanent security applications. Unlike ordinary models sporting non-lethal weaponry, those deployed to guard Amada's headquarters are heavily armed. They monitor and patrol within a designated area, using facial identification to identify intruders, at which point they shift into attack mode.
As the description mentions, these robots are very resilient and hardy. Grenades or other type heavy ordinance is recommended.
The Shock Burst attack is effective in causing temporary knock-down and disabling the Gunbox for a few seconds.